Syngineering present the ultimate membrane solution – VMT, the filtration system that turns the water you have into the water you want. Short for Vibratory Membrane Technology, VMT's highly sophisticated microfiltration and ultrafiltration membranes range from dewatering applications right through to robust nanofiltration and reverse osmosis membranes.
The world's first vibrating membrane separation system applies vibratory shear waves directly at the membrane surface to separate both suspended and dissolved solids.
Additional innovations include fully automated separation systems, spiral-wound reverse osmosis systems, membrane performance chemicals, and more.
APPLICATIONS:
Water: enables you to take advantage of poor source waters
Process: reduces costs and process stress
Waste: lets you save money by treating your waste on-site & avoid regulatory headaches
State-of-the-Art Membranes.
There are four membranes that can be used in a VMT.
Porous Microfiltration (MF) membranes are especially useful in dewatering slurries.
Ultrafiltration (UF) holds back 100% of the suspended solids, including proteins, pyrogens, bacteria and colloids.
Nanofiltration (NF) remove organics & hardness. They are used in wastewater treatment to remove BOD, and as pre-treatment to a RO VMTor spiral RO system.
Reverse Osmosis (RO), the "tightest" of all membranes, are designed to hold back sodium chloride (NaCl). Seawater desalination membranes are typically rated to reject 99.5% NaCl.In VMT systems, RO membranes are used to remove organics, trace oil, and trace metals in a single unit operation, without widespread fouling.
Wide Range Of Separators.
Syngineering offer you a complete suite of VMT separation systems as well as spiral-wound reverse osmosis systems, performance chemicals, engineering, and field services.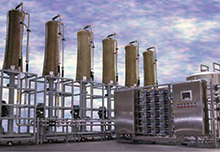 Series
Available in three sizes the original Series i remains a very popular product. All Series i systems are available fully automated and require very limited operator interaction.
Series i18
The smallest of the VMT line, the i18 is perfectly suited for smaller flows. The available membrane area in the i18 filter pack ranges from 14m2 to 27m2.
Series i36
A perfect size for high solids applications and moderate flow rates, the i36 was the original workhorse of the Series i family. The available membrane area in the i36 filter pack ranges from 42m2 to 56m2.
Series i84
The most widely used VMT with up to 130m2 of membrane area in each filter pack, the i84 is the ideal module size to process larger flow rates. Many i84 system configurations are available – including use in tandem – to fit your needs.
Systems
Can be supplied either as standalone units or in combination with VMT units – either before or after the VMT system. Applications include processing coal seam gas or field water and drinking water or potable water production.
Performance Chemicals
These membrane performance chemicals together with membrane cleaners, flux enhancers and anti-scalants help keep your VMT system operating at its peak.
Design, Construct, Finance, Maintain
From initial feasibility study through design, construction, finance and then maintaining the systems, Syngineering is a single source supplier.
For more information on the VMT process, Click Here